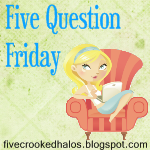 Thank GOD it's Friday!! I'm so glad, it's been a bit of a ________ week (or two) for me! But today it's Friday, and I've got a busy/fun weekend ahead of me.
Now, let's get down to the nitty gritty here... 5QF!! I've been slack in participating lately, but I know that my loving friends that stop by on a regular basis are gracious enough to give a just-past-first-trimester-preggers- mommy a break. With all that said, here are the rules (per Mama M.- click the button above to go visit her wonderful blog!):
Rules for 5
QF
: Copy and paste the following questions to your blog post, answer them, then
c'mon
back and link up (grab the code too, if you'd like!!). I would love, love, LOVE it if you'd link back to Mama M., the nut job behind the fun that is Five Question Friday!
(her words, not mine :))
Questions for Friday, 3/12
: (Thanks to
Erica
,
Erin
,
Renee
,
Pam
, and
me
(I'm dying to know the bed making thing...) for their question suggestions! Wanna be linked in a future 5
QF
? Mosey on
over here
, to my community, and offer up your best questions!)
1. How much time do you spend on the computer a day?
Oh my- that's a good questions. There are days that I don't even look at my computer, but on the days that I do, I guess I spend a good hour or two on here. Is that too much? Does it make me a neglectful mama??
2. Will you pay for your

children's

college or raise them to pay for their own way?
Honestly, I haven't given it too much thought. We have a little money (emphasis on little) in a savings account that's sort of earmarked for that, but with inflation and all that good stuff, I'm urging my daughters to do their best and pray for scholarships. I don't want to set them up for hardship right out of college by having to pay back college loans, so I guess it's something I need to give a bit more thought.
3. Have you ever been in a car accident?
Just last week, I turned the van over on it's side in a ditch. Prior to that, I've not had an accident in over 5 years. Only once was another vehicle involved, and it was the other drivers fault (rear end collision). Typically, I'm the doofus that nose dives into deep, and I mean deep, ditches. Or, I take out those huge construction pylons or cones. That happened once when I was driving home from my classes in college. I still hold firmly to the belief that there were NO warning signs that the lane was closed, and by the time I reached the barriers, I couldn't change lanes, traffic was just too thick.
But you can still trust me to get you safely where you need to go... honestly!!
4. What is your favorite book?
Well, without much thought, I'd have to say the Holy Bible. It's the only book I've ever found that truly offers all the answers (or a way to get them).
As far as novels go, that's so much tougher. I guess I would have to say, When Crickets Cry by Charles Martin is one of my most favorites. If you've never had a chance to read anything by this author, I suggest you start with the first ones he wrote (The Dead Don't Dance and Wrapped in Rain), and completely skip the last one (I was not impressed with Where the River Ends). He's a superb writer, and I'm hoping his next novel that's set to come out in June will redeem my opinion of where his novel left me.
Another of my favorites is The Scarlet Thread by Francine Rivers. Oooo, and Redeeming Love. Okay, so I just can't make a decision between my faves...
5. Do you make your bed everyday?
Uhhh, no. In fact, it's rarely made. Sadly, I'm the type who only goes in my bedroom for sleeping, and could care less if the bed is neat when I get in. By that time of day, I'm in "crash and burn" mode and most of the time have already fallen asleep on the couch.
But I do at least change my sheets regularly :)