Well, since today has been a beautiful, then stormy day, I thought it would appropriate to post a new award I got the other day from my sweet blogger friend, Brittany .If her name sounds new to you, then PLEASE go read her blog... she's only 17, but tackling a lot in her life right now...
So here's my gorgeous new award!!
SUNSHINE!!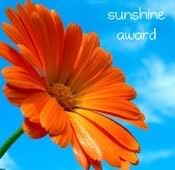 I may end up breaking all the rules of the award, just because it's sooooo stinkin' hard to come up with 12 blogger friends to give it to. I mean, I follow a bazillion folks, so it gets really tough to choose....
Anyway, here are the rules I'm supposed to be following:
** Put the logo on your blog or within your post. (yep)
** Pass the word to 12 fellow bloggers. (uhhh... well, we'll see about that)
** Link the nominees within your post. (again... check the last one)
** Share the love and link the person from whom you received this award. (maybe...)
Thanks again Brittany!!