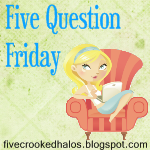 Woo-hoo!! It's Friday!! I have a super busy day or two or three ahead of me (bake a cake, decorate said cake, shop for birthday present, get Lady M to her first ever gymnastics show, celebrate Miss Priss's birthday tomorrow with the in-laws, church on Sunday morning, Miss Priss's birthday party with my fam on Sunday afternoon and decorating for the party..... I know I'm forgetting something, but that's all my mental tasklist will hold at the moment)---- So lemme get this thing going here!!
RULES: (per Mama M.- click the button to get over to her place) Copy and paste the following questions to your blog, answer them, then

c'mon

back on Friday morning, and link up, my loves!
You can grab the

MckLinky

BlogHop

code if you'd like, and I would be ever so grateful if you'd link back to me,
Mama M.
, so other people know where to come for the fun!!
If you don't have a blog but wanna join in...just answer the questions in the comments of any blog along the way!
Questions for Friday, 3/19/10: (Thanks to Ann, Lula Lola,Pam, Robin, and Lily for their question suggestions!! Wanna be linked in a future 5

QF

? Head on over here, to my community, and offer up your best questions! Anything flies!!)
1
.
Have you ever had a celeb sighting?
Ha!! I live in NC, not in Los Angeles, California!! With that said, I can say that we rented a house in the mountains of NC where my mom said she saw Cindy Crawford with her kids at the house next door. I cannot verify it, I didn't see it, but she still thinks thats who was staying in the rental house down the road.
I have met several celebrities (not really sightings), like Carson Daly, Jay-Z and DJ Skribble, several bands/singers from my prodigal days (like Jon Popper of Blues Travelers, the Dave Matthews Band, Sublime, Hed(pe), Static-X, Powerman 5000, Sevendust) and tons of Christian artists, like Toby Mac, Brandon Heath, George Huff, Mandisa, Josh Wilson, Paul Colman, the Afters, and I could probably add several more, but I gotta start working on that cake soon!!
2. What temperature do you keep your house?
Right now, when our heat is on (which we have been cutting off during the day because of the GLORIOUS weather) it's set at 67. Then in the summer, we usually have the AC set on 76 (because it's just too cold for me otherwise). We have ceiling fans in EVERY room (except the bathrooms and laundry room), so the air circulates super well.
3. Do you notice dust at other peoples homes?
Who looks for that? If you were to visit my house right now, at this very moment, you would find at least a weeks worth of dust buildup on my TV and TV stand, end tables, etc. The rest of the house more than likely has enough dust to comprise the remains of at least 12 of my ancestors....I should do more about that I guess.
4. What's the worst job you ever had?
That's a tough call... well, I worked at Rack Room Shoes, when it was in a VERY bad location. I was working one Saturday morning when my manager was robbed at gunpoint in the front of the store and I was obliviously helping a customer towards the back....shortly after, a new manager was hired who had something against me, and the day I quit, she grabbed me around the neck with both hands, lifting my feet from the floor... needless to say, I got my things and walked out....
Then I moved onto the mall, where I was an assistant manager at a CD store, where I had my very first super scary run in with a stalker.....authorities were called, the situation ended after several weeks....
Oh- and let's not forget the job where I was working the front desk at a tank manufacturing company, being only the 2nd female employee there, and frequently being called into the plant managers office, where he was sitting with his hands down his pants.... I was fired from that place for getting pregnant... and was paid a severance package so that I wouldn't file a lawsuit...
Yeah--- I don't have the best track record of employers....
5. What is your most sentimental possession?
Oh, I just don't know.... I'm not a materialistic person.... I have a lot of sentimental memories, but I'm not sure if I have a "most sentimental possession".
Okay, just for the sake of answering, let's say my silver cross necklace. My dad bought it for my grandmother when he was around 16. Shortly before she died, she gave the necklace back to him and told him to give it to me when he thought I was old enough to take care of it.... and I still have it...