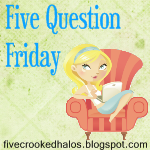 YAY!! I actually suggested one of these questions this week!! YAY ME!!
Anyway, since the paint on today's craft is almost dry, I better get a move on and post my answers to the 5QF today!!
1. Favorite gift you are GIVING this year?
Hmm... that one is tough. Thus far I haven't been uber-creative in coming up with a good gift. I can't post some of the gifts because the recepients sometimes stop in on my blog, which means I gotta be all "hush-hush" on everything. Ask me after Christmas :)
2. How many parties are you attending between now and Christmas?
(This was my question suggestion!!)
Okay, I have at least 4... wait, no, 3 because one happened earlier this week (it was a "holiday" party because it was Thanksgiving and Christmas put together- Go Triad Homeschoolers!!). We have a party with my dad's side of the family, then there will be a party for my Sunday School class sometime (I hope), and then a smaller family party the night of Christmas Eve (which is a tradition for us!!). LOVE me some Christmas parties!!
3. What is your favorite Christmas song?
I so could not ever answer that. I listen to Christmas music all year long. So I'll post 10 of my favorites in no particular order:
* O Come O Come Emmanuel
* Joseph's Lullaby (by Lady M Me)
* White Christmas (by Clyde McPhatter and the Drifters)
* Baby It's Cold Outside (but NOT the Rod and Dolly version- I prefer the girl from ELF or Dean Martin)
* What Child is This?
* God Rest Ye Merry Gentlemen (by BNL & Sarah McLachlan)
* I Celebrate The Day (by Relient K)
* While You Were Sleeping (Casting Crowns- was recorded not as a Christmas song originally, but I love their WHOLE Christmas album)
* Sweet Little Jesus Boy (love the old Wayne Watson version)
* Deliver Us (by Derek Webb)
4. Who was your favorite elementary school teacher and why?
My favorite elementary school teacher was my first grade assistant, Mrs. Libby Frye. That woman was the sweetest, and most genuine, teacher I ever had. She took an interest in me early on, and would take me on outings outside of school, like to see her daughter perform in the high school production of "Joseph and the Technicolor Dreamcoat". I will ALWAYS and forever be grateful to how much time she invested in me, and all of my classmates.
5. If you had a choice to live in any other period of time (other than now) what era would you choose and why?
HA! I have no idea. Let's see.... I think I'd like to live around 2000 or so years ago, because I can't imagine how the world would be when Jesus was just arriving on the scene as a human. I'd love to know which side of the gun I'd be standing on, would I be a Gentile follower of this "Man" claiming to be the Son of God, or would I be in the crowd shouting "Crucify" as He was beaten, accused, and hung on a cross?
Thanks to Mama M. for getting us going today, and I hope your eyeache goes away soon!!