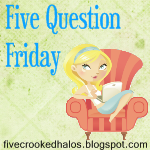 It's that time again, and once again, I'm about to run out the door to do a bazillion errands, but I gotta make time for one of my favorite memes, 5QF!!
Here we go!!!
1. Does Santa wrap the presents he leaves at your house?
I posted this very same question a while back in my BlogFrog comunity...
At my house, Santa does wrap presents. He did when I was growing up, and so he does at my house for my kids. I think part of the fun of Christmas morning is opening all the gifts. The thrill of the surprise that you have to tear into to find out what's inside!!! It's so much fun, it's an adrenaline rush (for Santa and for the kids). And since Lady M is now old enough to find the paper, I'm having my first annual Santa Present Wrapping Party at my sister's house, who has no children of her own yet. That way, I have a place to store all of the Santa paper, and my kids are none the wiser. Plus my sister gets to enjoy the excitement of wrapping those secrets up for her nieces too :)
2. When is your "big" Christmas celebration...Christmas Eve or Christmas Day? Tell us about it...
We have several celebrations in my family. Christmas Eve is probably our biggest, it's my personal favorite... I wrote about it in another
Five Question Friday
(check the answer to #2). Christmas Day has become somewhat of a busy not so fun time, because we have to drive all over the world to be with all of my husband's family (he's an only child! how does that happen??) But I LOVE Christmas, and it's one of my favorite times of the year.
3. Are you big on keeping tradition every year?
I love traditions, but honestly, we don't have too many. We had a lot at my mom's house when we were growing up. One of the best things was that she would completely deck the house while we were at school, from garlands in the doorways, nativities on the tables, stockings hung, tableclothes changed, tree put up, everything DONE while we were at school. When we came home, it was like a Christmas wonderland, and we'd all decorate the tree together. Then, the youngest child would be lifted up to put the topper on the tree. It was so awesome.
4. Do colored lights or white lights tickle your fancy?
I like them both, but I only use white lights now. I'm not sure why...
5. Do you decorate outside your house for Christmas
?
YES!! Last year we bought some of the animated lighted deer, but some stray dog chewed the cords, so they were trashed. We have icicle lights up on 3 sides of the roof, and on the front railings. Then we have little lighted penguin pathmarkers on the walkway up to the door. My husband really wants to get a big inflatable to put in the yard, but we haven't found one we really like yet. LOVE outdoor lights, but there is such a thing as too much!
Okay, I'm off to Winston to pick up some things.. happy weekend!!