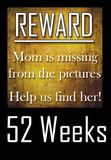 ********************52 Weeks*****************

52 Weeks is a year long challenge for YOU to be in a picture once a week for 52 weeks. We are always the ones behind the camera, this is YOUR chance to get out in front and be in the pictures with our family. We are glad you are joining this challenge. More importantly your family will really enjoy having you in the picture. Thanks for playing along! Oh, you can just jump in now with 1 of 52, you're not getting off that easy! Now go take a picture!

**************************************

So I've been really slack about posting anything this week, that's what I get for making a public declaration that I would try to blog everyday this month. Oh well, my apologies to
The (un)Experienced Mom
. I really did try.
Anyway, on to today's picture of me with the kiddos.
I tried to get a pick of me doing something with the kids besides just a posed picture. I really did. But it just didn't work out. This is the result. Miss Priss was just out of the tub and about to fall asleep on me after one of our days of not being home all day. I was ready to fall asleep myself, so it's not the best (... and it seems I make excuses every week... ).
... and this is her just a few minutes later, on my lap asleep... gotta love these moments!!