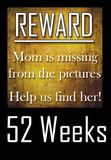 ********************52 Weeks*****************

52 Weeks is a year long challenge for YOU to be in a picture once a week for 52 weeks. We are always the ones behind the camera, this is YOUR chance to get out in front and be in the pictures with our family. We are glad you are joining this challenge. More importantly your family will really enjoy having you in the picture. Thanks for playing along! Oh, you can just jump in now with 1 of 52, you're not getting off that easy! Now go take a picture!

**************************************

I just found this meme last week, and I'm going to start doing this.
Begrudgingly.
I am SO terribly not a photogenic person, and I have
ALL KINDS
of issues wth the way I look. I can always find beauty in other people, but for whatever reason, there's just not any on the outside of me. BUT that's not gonna stop me. I gotta be included in my picture memories for the girls, so this week, I'm posting a picture. I tried to take some earlier this week, but I glowed with my pastey pale pastey skin color in all of them. I would love to have someone who could snap pics for me, but my dear husband usually works between 80 and 90 hours a week, so he can't possibly have time to get behind a camera for a silly blogpost. And I wanted to just chicken out, but I am proud to announce, that I just took my ketchup faced naked bottomed Miss Priss, and interrupted Lady M in her school work, and went to the porch to take a picture...
So here's to the first of hopefully many messy pics of me with my girls (and hopefully some with the hubby too)