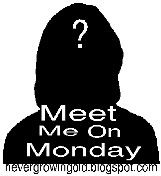 It's another Monday! Hope everyone had a fabulous Thanksgiving!!
Questions:
1. What is your favorite way to eat chicken?
My favorite way to eat chicken is FRIED!! or stir fried!
2. Have you decorated for Christmas yet?
YES!! We usually wait til the day after
Thanksgiving
to get our decorations out, because I usually decorate for Thanksgiving/fall anyway. This year I didn't since I have Little Man to take care of, but we still waited until the day after to get out the tree, nativities, stocking, garlands, wreaths, santa and elves :)
3. What is your favorite article of clothing?
Right now, I don't have one! Wait, the pajama pants I'm wearing are probably my fave, since they are super big and comfy.
(On a side note, is it so bad that I wear my PJ's to drop my kid off at school??)
4. Do you pay your bills online or write checks the old way?
Online!! I totally forget to put anything in my mailbox, so if I were to write checks and mail them in, they would be consistently late!!
5. Do you make Christmas cookies?
I have before. Is it tradition? No, but I am working on starting a few new traditions with my family, so Christmas cookies are definitely on that list. Besides, they made great gifts!!