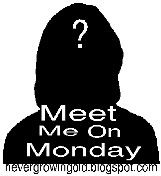 I found a new and fun blog hop for Mondays!! This one is hosted by Java at
Never Growing Old
. I love Q&A blog hops (even though I've been missing out on 5QF's for a LONG time, gotta get back in that groove!!)!! Join in if you wanna :)
Questions:
1. How many pillows do you sleep with?
HAHAHA!! I sleep on the couch in the den so I don't have to stumble through the dark if the baby wakes up, so that's a tough one. I have one pillow under my head, one between my knees, 4 couch cushions running the length behind me and then I hold one bolster pillow.... that started after I let my oldest daughter sleep in the bed with me until she was 3. When she moved to her own bed, I needed something else to hold onto....
2. Where will you eat on Thanksgiving?
My whole family goes to my oldest brother's house for Thanksgiving. My sister in law has her mom and sister there usually, then my parents, my other older brother, my younger brother & his wife, and my sister will be there :) It is always a blast!!
3. Would you rather go to a party or host a party?
GO to the party!! On very rare occasions do I get the wild idea that I should host a party. I am not the best hostess... I stress out for days before anything I host, and then I'm usually a grouch by the time the actual party rolls around.
4. How many purses (for the guys..wallets) do you own?
Wow! I probably have 15 or so. What's bad though is that I rarely rotate my purses. I bought a green Nine West bag at Ross a couple of years ago, and I always end up using it for everything. Green IS my favorite color...
5. What is your favorite kind of seafood?
Ugh. I am not a fan of seafood. I like shrimp, but for the most part, the smell turns me off of any other kind of seafood.