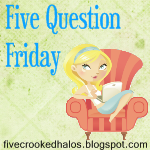 HELLO and welcome to my new blog address!! It's got a new name, new address, and I've updated the look from my Christmas-y blog!! I'm excited about all the newness!! I haven't joined the 5QF carnival in a few weeks, so I thought it would be a great kick start to my fresh new spot!! To join up, just click the pic above....
Rules for 5QF: Copy and paste the following questions to your blog, answer them, grab the MckLinky code (if you'd like...), then link up! I'd totally love it if you'd link back to me, Mama M.!!
Questions for the New Year!! 1/1/10: (Thanks to Kate and Kyrsten for their question suggestions! Head on over here, to offer up your great questions, and get linked on a future 5QF!!)
1. If you could bring one character to life from your favorite book, who would it be?
Hmmm... I don't know if I could settle on one character ever. I loved so many as kids, and of course, in adult fiction books, all of the men would make perfect husbands (although I'm perfectly happy with the one I've got!!). I think I'd have to say I'd like to meet the Professor from Chronicles of Narnia. I'd love to hear the stories straight from his own mouth about the beginnings of travelling to such amazing places...
Then again, Francine River's book, Leota's Garden, has an awesome character in Leota. Even though she's cranky and crochety in the beginning, I love elderly people like that!!
2. Where did you get your very first kiss?
Wow! I really am not sure if I can remember that far back!! I know I
gave
my first kiss in kindergarten during nap time to a boy named Kevin, but I don't think it was well received :)
My first kiss.... I would say it was probably on my parent's front porch after my first "real" date which was in the fall of my sophomore year in high school. I was dating a guy who'd graduated my freshman year (a COLLEGE boy!) and I thought I was some kinda cool then. We dated for a year and half before I dumped him because he proposed to me at 16 years old!! I thought that was just too freaky for me...
3. How did you welcome in the New Year?
:)
I was in the shower when the New Year began. We were supposed to have gone to Liberty University for the WinterFest, and if we had, we would have heard MercyMe playing in the New Year. After a bit of discussion, we decided a 2 year old would not behave too well listening to a band play at midnight in a crowd of mostly high school students.
4. What is your favorite Beatles song?
Good question!! I don't know that I could name just one. But I will say that the song "Here Comes The Sun" holds the most memories for me. I can't really go into too many details without getting sappy, so I'll just say it was a best friend that became more at one time.
BUT- I have to say that I like "Blackbird" and "Hey Jude" and "Yesterday" a whole heaping bunch too!!
5. Donuts: Overrated, underrated, or 'bout right?
I guess it depends on my mood. When I was pregnant with Lady M, I got sick every time I'd even drive by the Krispy Kreme because of the smell. But when I was carrying Miss Priss, I had to stop and get a donut every time I'd leave the OB office (they're only a couple of blocks apart--- great idea, Krispy Kreme!! Take advantage of pregnancy cravings!!). I can't say that I like Dunkin' Donuts too much, I think their doughnut are a bit too dense. But oveall, I guess I have sort of a take it or leave it attitude about it all :)
Thanks Mama M for your awesome bloggy carnival!!