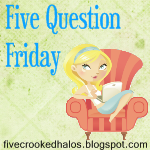 Finally, time for Five Question Friday!! Yee-haw! I love this meme....
Thanks to Mama M for always coming through for us who like to answer random questions!! Click the button above if you wanna go check out her blog...
And now onto the questions:
1. Are you a Black Friday shopper?
No, no, no, no NO
NO NO!!!
I used to manage a couple of mall stores in my day, and BOY HOWDY is it crazy on Black Friday. I never wanted to work then, and I never wanted to shop then.
But maybe this year I will, who knows? I always think about the thrill, the excitement that must come when you're out shopping on
the
biggest shopping day of the year.... but then I think about the crowds, the lines, the horrid traffic, the tramplings, and ... and... and.... I have a little panic attack.
2. What was your favorite childhood toy? (Think Easy Bake Oven, Cabbage Patch Kid, Shrinky Dinks, etc.)
Hmmm... that one takes a little bit of thought. I loved my Cabbage Patch Kids, but I also loved my Strawberry Shortcake dolls. The bad thing was that since I have 3 brothers, and a lot of neighborhood boys at my house all the time, all of my dolls were destroyed. I did squirrel away my Strawberry Shortcake dolls, so I still have them and my girls play with them. There was another doll that I adored, but I can't remember the specific brand name. I still have her...
3. Favorite Christmas movie?
Honesly, I am a fan of all Christmas movies, with exception to A Christmas Story. I never thought that movie had anything to do with Christmas. Oh, and the "Bad Santa" movies with Billy Bob Thornton were junk too.
Here's a list of a few of my very most favorites: Charlie Brown Christmas Special, A Christmas Carol (the one with Mickey Mouse, I haven't seen the new one yet but I SO want to), ELF, Polar Express, The Santa Clause (the first one is the best, the other 2 were okay)... and I could keep going probably the rest of the day...
4. What is the "must have" item on your Christmas list this year?
Nothing... I don't do Christmas lists. Maybe that's weird, but honestly, I think around 16 I stopped thinking about what I wanted and thought so much more about what to get other people. I can't think of anything I want or need.
Except maybe gift cards :)
5. Do you go all out with decorations or do you keep it simple and classy?
Wellllllll, I guess that would depend on one's definition of "going all out" or "simple and classy". We usually do icicle lights around the house (white only), and last year we had a few of the moving deer in the yard with a lighted wire tree (again, all white lights). We have a HUGE yard, so it definitely wasn't too much. Sometimes I put a garland around our front "porch" thing, with red bows on the posts and maybe red bows on the mailbox. As far as inside decorations, we have the tree, mantle decorations and stocking holders, and I have a growing collection of nativity scenes that I put in every room. The girls both have Christmas trees in their rooms, Miss Priss's is a tiny Disney Princess tree, and Lady M's is one of the skinny tall trees (she picked it out).
And as I type all of this, I probably fit into the "go all out" category, because I'm thinking of the tinsel I put up with mistletoe between my living room and kitchen, and the stuffed animals and pillows that make their way to the fireplace and various couches and loveseats... But it's Christmas!! I LOVE IT!! I don't decorate much for any other season (except fall), so I guess it's okay to overindulge a little for one (or two) things every year....
So there you have it... feel free to answer the questions in my comment section if you want, or go link up at Mama M's and do your very own 5QF blog!!
Have a great weekend!! AND I'm working on a soup for tomorrow already :)